The Earth needs your help. Here's your chance to take a stand and protect it.
Join WWF's Panda Paddle, a one-of-a-kind standup paddle board event, to make a huge difference for our planet. You'll raise money to protect the oceans, rivers, animals, and wild places you love. Then, you'll join together with nature lovers just like you at the nation's premier standup paddle boarding festival, to celebrate all that you've done for the planet.
Don't miss your chance to have an amazing time while doing something amazing for the planet! Grab your friends, family, and coworkers, and sign up for Panda Paddle today.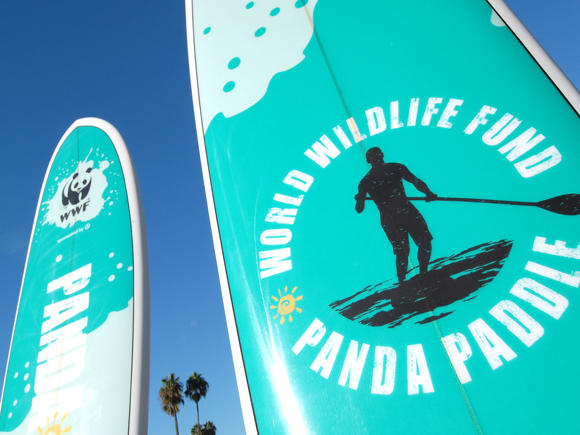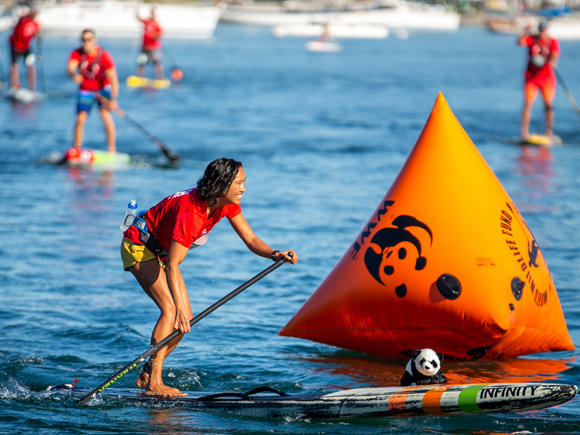 Getting started is easy—and fundraising has its perks.
Just like the event itself, Panda Paddle's fundraising is designed to be fun and easy. And as your support grows, you'll win feel-good and look-good rewards.
1. Register today, and choose the Panda Paddle event closest to you—or choose "virtual event" to paddle on your own favorite body of water.
2. Decide whether you want to fundraise solo or with a group (it's more fun with friends!) and which course you want to paddle. We've got courses for all experience levels—10K (pro), 5K (intermediate), or 1 mile (beginner—no SUP experience necessary).
3. Once registration is complete, you'll get your own webpage, which you can personalize for collecting donations from friends and family. It's simple to set up.
4. We know you're in this to help protect nature, but that doesn't mean you shouldn't also get some great thank you gifts along the way.
Raise $100 or more—receive a Panda Paddle t-shirt.
As you hit higher fundraising goals, you'll earn even more Panda Paddle gifts.
Even better, you win the bragging rights to say you're making a big impact when it comes to protecting the planet.
Photo attributions:
© Nate Dappen / Day's Edge Productions / WWF-US