© WWF-Office/Martin Harvey
Be the Hero
Nature Needs
Start your fundraiser
You can save the planet.
Join the Panda Nation.
Run a marathon. Have a birthday party. Plan a community project. Share your love of animals. Whatever you're into in your wild life, you can create a Panda Nation fundraising page to celebrate it—and protect our Earth's vulnerable wildlife, habitats, and natural resources at the same time.
Start your fundraiser today, and become one of the thousands of passionate WWF supporters who proudly call themselves part of the Panda Nation!
Just select one of the options above, and we'll give you all the tools you need to get started.
Have a question? Contact us and we'll be happy to help out!
©Trina Lim

Meet the Panda Nation - Trina Lim

Trina Lim was inspired to do something different for her 36th birthday. She no longer had the space to receive birthday gifts and was looking to receive something more meaningful to her. This inspired her to align her birthday with her passion for wildlife and their habitats. She customized her first Panda Nation fundraising page with a heartfelt message to her friends and family, and also reached out to her social media network and others through SMS to support her cause! Although shy at first, she managed to raise nearly $2000! In turn, she thanked her friends and family with panda and polar bear cupcakes to enjoy! Trina truly went above and beyond!

©Ann Huart

Ann takes to the streets of Manhattan!

Long time runner, but first-time fundraiser, Ann Huart, signed up to run the United Airlines NYC Half last year with Panda Nation. "On race day, it really made a difference. I've been running races for years, but this race was really special. It felt wonderful to know that I raised funds for a good cause and had so many people support me along the way." Ready to take on the challenge again this year, Ann bravely signed up again for the race. She held bootcamp-style exercise classes to raise funds for the event and brought in more than $3,500 over the two years! Thank you, Ann, for partnering with Panda Nation to make your miles even more meaningful.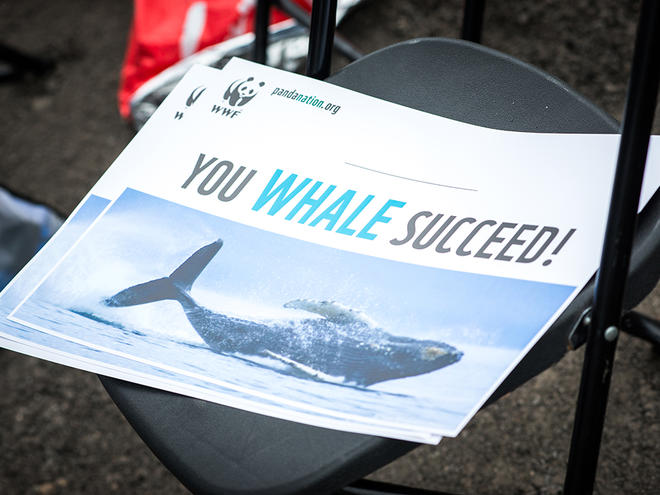 ©WWF-Office/Darren Higgins
Setting fitness goals and getting more actively involved with a good cause are always popular New Year's resolutions. And now with Panda Nation Athletics, you can accomplish both at the same time! Participate in one of our featured athletic events, and you'll be raising money to help protect the planet's wildlife, wild places, and natural resources while reaching your New Year's fitness goals.