©Jonathan Cass
Meet the Panda Nation
Meet the Panda Nation-- a community of fundraisers with the passion to protect wildlife and wild places. Join the community and help protect the planet. Whether you decide to run a race, or dedicate your birthday, or dare to think outside of the box to fundraise, we want to support you! Be among one of the thousands who have done it before!


Read the fundraising stories from the Panda Nation, and allow yourself to be inspired start to a fundraiser of your own. We'll give you all the tools you need to get started.
©Samar Shivdasani

Fundraising is a Marathon, not a Sprint

Samar Shivdasani committed to running the 2018 TCS New York City Marathon with Panda Nation and set his fundraising goal high. To make his fundraiser a success, Samar showed his enthusiasm for conservation, leveraging social media, instant messaging, and email campaigns to reach his friends and family. He explained that "the projects WWF engages in give me confidence in knowing my fundraising efforts will be put to good use." Thanks to his persistence and dedication, Samar's fundraiser generated over $3,800! Everyone at WWF is so grateful for all of the ambitious Panda Nation athletes like Samar.

©Christi Cartwright-Lacerda

Christi ran for future generations

Conserving animals and their habitats is important not only for life on Earth today, but also for all future generations. That was the motivation behind Panda Nation member Christi Cartwright-Lacerda's fundraiser for the Tough Mudder Half Northeast. Christi says, "I'm running so that my daughter Gabriella will grow up in a world still full of wildlife and wild places." Though Christi is a seasoned athlete who enjoys running and doing yoga regularly, participating in the Half Mudder was a new challenge. According to Christi, "The best part of it all was the feeling of excitement and accomplishment of trying something new and doing something good for a cause I believe in." Thanks for all your hard work, Christi!

©Alex Holson

Alex and Joe bring their love full circle!

Soon-to-wed couple Alex Holson and Joe Walker first bonded over their love for animals and WWF's interdisciplinary approach to improving the lives of many diverse species. To Alex and Joe, donating their wedding to WWF was the best way to celebrate their love with friends and family. Instead of gifts, they've invited loved-ones to give to their fundraiser and so far, raised $1,305 with several months to go before the wedding! Their passion for wildlife doesn't stop there. "We are going to Africa on our honeymoon and look forward to seeing the work WWF is doing first hand!" Alex and Joe's dedication is inspiring! Fundraisers like them are what makes Panda Nation great!
©Trina Lim

Meet the Panda Nation - Trina Lim

Trina Lim was inspired to do something different for her 36th birthday. She no longer had the space to receive birthday gifts and was looking to receive something more meaningful to her. This inspired her to align her birthday with her passion for wildlife and their habitats. She customized her first Panda Nation fundraising page with a heartfelt message to her friends and family, and also reached out to her social media network and others through SMS to support her cause! Although shy at first, she managed to raise nearly $2000! In turn, she thanked her friends and family with panda and polar bear cupcakes to enjoy! Trina truly went above and beyond!

©Ann Huart

Ann takes to the streets of Manhattan!

Long time runner, but first-time fundraiser, Ann Huart, signed up to run the United Airlines NYC Half last year with Panda Nation. "On race day, it really made a difference. I've been running races for years, but this race was really special. It felt wonderful to know that I raised funds for a good cause and had so many people support me along the way." Ready to take on the challenge again this year, Ann bravely signed up again for the race. She held bootcamp-style exercise classes to raise funds for the event and brought in more than $3,500 over the two years! Thank you, Ann, for partnering with Panda Nation to make your miles even more meaningful.

©WWF-Office/Keith Arnold

Meet the Panda Nation - Tanner Holland

He may be just 10 years old, but this Panda Nation fundraiser is already changing the world. Just before his seventh birthday, Tanner was inspired by a story about rangers protecting species in the wild, and he wanted to help. He created his first Panda Nation fundraising page, and asked friends and family to give to his cause in lieu of birthday presents—and he raised over $900! Tanner then decided to make it a birthday tradition, and so far he's raised over $4,000 to protect the planet. Way to go, Tanner!
©WWF-Office/Jon Cass

How to Rock a Marathon Fundraiser

Thirteen was the lucky number for Nicole Bennion, who successfully completed the 13.1-mile Rock 'n' Roll Seattle Half Marathon earlier this year. Her recipe for success? Panda Nation! "Running to save species and our planet is great motivation to keep moving," she says. Nicole signed up for a Panda Nation fundraising page, and encouraged friends to support her marathon effort by giving to WWF. Her fundraiser turned out to be as successful as her race—she blew past her first fundraising goal and in the end raised over $1,500.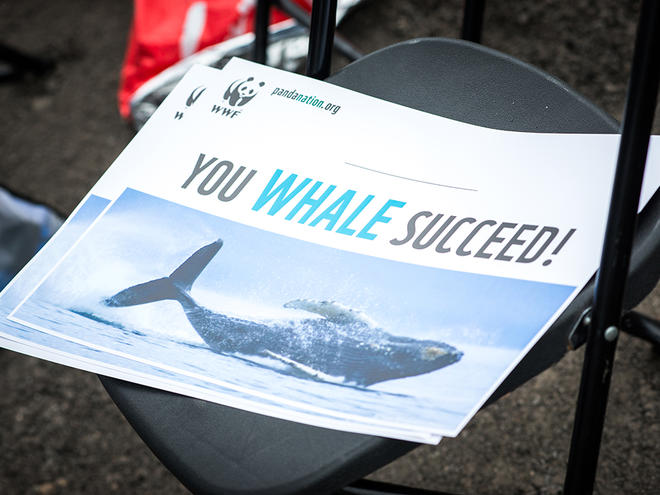 ©WWF-Office/Darren Higgins
Setting fitness goals and getting more actively involved with a good cause are always popular New Year's resolutions. And now with Panda Nation Athletics, you can accomplish both at the same time! Participate in one of our featured athletic events, and you'll be raising money to help protect the planet's wildlife, wild places, and natural resources while reaching your New Year's fitness goals.