© WWF-Office/Martin Harvey
Be the Hero
Nature Needs
Start your fundraiser
You can save the planet.
Join the Panda Nation.
Run a marathon. Have a birthday party. Plan a community project. Share your love of animals. Whatever you're into in your wild life, you can create a Panda Nation fundraising page to celebrate it—and protect our Earth's vulnerable wildlife, habitats, and natural resources at the same time.
Start your fundraiser today, and become one of the thousands of passionate WWF supporters who proudly call themselves part of the Panda Nation!
Just select one of the options above, and we'll give you all the tools you need to get started.
Have a question? Contact us and we'll be happy to help out!
©Alex

Alex's Celebration to Conserve Nature

To celebrate his Bar Mitzvah, Alex wanted to support an organization that tackled a worldwide problem by working alongside local communities throughout the globe. Alex expressed he is "drawn to how much WWF is dedicated to fixing the most important problems in society." By fundraising for the WWF, Alex turned a special day into an opportunity to share his passion for combating climate change. Once Alex let his friends and family know about WWF's work, "they were more than happy to donate." The Panda Nation team is inspired by Alex's compassion and dedication to raising awareness to make a difference!

©Crystal Heinemann

Best Friends Paddle For A Purpose

Crystal and her best friend, Luna The Merdog love standup paddle boarding in any waters their adventures may take them. They've paddled together, connecting to nature in over twelve states! They've paddled with dolphins resting dorsal fins on their board, seen a humpback whale just 50 feet away, witnessed eagles soaring above, and seen otters, beavers and seals. Learning about WWF's Panda Paddle was like hearing a fundraising event had been created just for them. To support WWF, Crystal shared her Panda Paddle fundraiser with business clients and on social media, quickly becoming a top fundraiser!
<! replace all references to event ID 2032 with new event ID >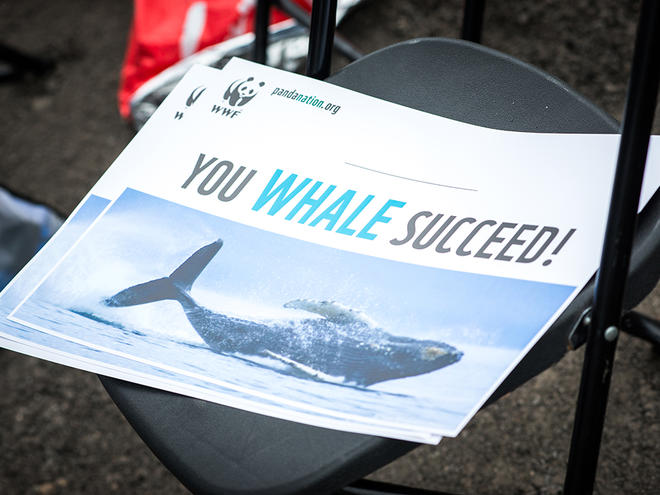 ©WWF-Office/Darren Higgins
Setting fitness goals and getting more actively involved with a good cause are always popular New Year's resolutions. And now with Panda Nation Athletics, you can accomplish both at the same time! Participate in one of our featured athletic events, and you'll be raising money to help protect the planet's wildlife, wild places, and natural resources while reaching your New Year's fitness goals.