© Rebecca Greenfield / WWF-US
People's Climate March
Saturday,
April 29, 2017

in Washington, DC
This is a pivotal moment
We all depend on clean air, clean water, productive farms and abundant oceans. Without a stable climate, all of this is at risk. We each can help create a healthy future for people and wildlife and the places we all call home. Together, we all helped win the world the Paris Agreement—the first truly global plan to curb climate change. Now it's time for all of us to deliver on that promise and to show the world that the American people, businesses and cities are ready to pick up the mantle of climate leadership.
Let's start by creating more jobs and safer communities
Cutting carbon pollution and investing in clean energy isn't only good for our environment—it means safer communities and more American jobs. Already, 3.3 million Americans have jobs because of the clean energy revolution—that's more than all US jobs from fossil fuel industries combined.
We each have a role to play in accelerating our clean energy future. Tackling the climate challenge has always required global solutions from all parts of the world. It's up to us.
March with WWF to help create a clean energy future and be part of a new generation of American climate leadership!
On
April 29, 2017

, I pledge to:

4,186 have pledged their support so far
,
Here are your senators, their phone numbers, and a short script for reference:

Here is your script:
Hi, my name is [NAME], and I am a constituent from [CITY, ZIP].
I want the US government to continue providing strong support to international conservation programs. Please support policies to combat the illegal trade in natural resources, and support action to address climate change domestically and internationally.
Thank you for your time and attention.
[IF LEAVING A VOICEMAIL: please leave your full street address to ensure your call is tallied]
MARCH INFORMATION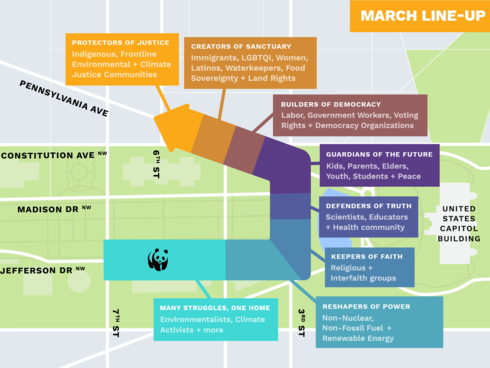 The march will start near the Capitol Building—the WWF coalition will march toward the back of the overall group with other environmental organizations. We will meet near the entrance of the Air and Space Museum on Jefferson Dr. SW between 7th and 4th St. SW. Then we will march up Pennsylvania Avenue towards the White House, and end at the Washington Monument.
*Not marching with us in Washington, DC, but participating locally? Find a sister march near you.
Schedule:
11:00am – Lineup to march. Meet WWF coalition by the entrance of the Air and Space Museum on Jefferson Dr. SW between 7th and 4th St. SW. We'll be there with t-shirts, signs, and banners—so we'll be hard to miss!
12:30pm – Kickoff the march. Begin marching up Pennsylvania Avenue towards the White House.
1:30-2:00pm – Take collective action. Surround the White House on all sides for a moment of silence followed by a moment of noise.
3:00pm – Enjoy end-of-march activities. Gather at Washington Monument.
POSTER RESOURCES
(English | Spanish)
GETTING TO THE MARCH
We highly recommend taking mass transit if possible. On the day of the march, parking will be limited, and there will likely be road closures throughout the city, impacting accessibility and traffic.
Transportation to DC:
Buses – regional bus transit can be a reasonably priced and easy way to get to DC. A few services to consider are:
Trains – Amtrak provides a number of routes direct to Washington, DC's Union Station. Find a train from your city.
Maps for getting around DC:
To purchase a DC metro card in advance, please click here. Please anticipate at least 5 business days for your SmarTrip card to be delivered once ordered.
If you'd like to rent a bike to get around the city, Capital Bikeshare has rental kiosks around the city with many easy pick-up and drop-off stations close to the march route.
The closest stations to the beginning of the march are at 2nd St. & Constitution Ave NW, Washington & Independence Ave. SW, and 4th St. & Madison Dr. NW. There are also convenient stations at the end of the march, at 17th St. & Independence Ave. SW and Jefferson Dr. & 14th St. SW.
WHAT TO BRING
• Bring light food and water. WWF staff will have some snacks on hand to share during the march.
• Wear comfortable shoes and clothes. Please check the weather before to dress appropriately.
• Children are encouraged to attend and dress as their favorite endangered species.
WHAT NOT TO BRING
• Any amplified sound systems.
• Unnecessary clothing or other items that may weigh you down.
ACCESSIBILITY INFORMATION
People's Climate March is dedicated to ensuring that it is an inclusive event!
• Jumbotrons will provide live Spanish translation and closed captioning for deaf and hard of hearing.
• Accessible seating will be provided by the main stage at the Washington Monument.
Signed up for the march or want to help spread the word? Post on social media now:
Sample memes:
Example social media language:
• Facebook/Instagram option 1: I'll be at the #PeoplesClimate March with @WorldWildlifeFund (instagram: @World_Wildlife). Will you join me? There's never been a more critical moment to stand up and change climate change. #ClimateMarch
• Facebook/instagram option 2: Join me! March with @WorldWildlifeFund (instagram: @World_Wildlife) at the #PeoplesClimate March to help create a clean energy future and be part of a new generation of American climate leadership! #ClimateMarch
• Facebook/Instagram option 3: I'm standing up for a clean energy future with @WorldWildlifeFund (instagram: @World_Wildlife). From marching to calling your local officials, you can help change climate change too! #PeoplesClimate #ClimateMarch
• Twitter option 1: I'll be at the #PeoplesClimate March with @World_Wildlife. Will you join me? #ClimateMarch
• Twitter option 2: I'm standing up for a clean energy future with @World_Wildlife. Will you join me? #PeoplesClimate #ClimateMarch
Tips and things to remember:
• The hashtags: The main hashtag is #ClimateMarch. In addition, you can also use #PeoplesClimate
• The handles: @World_Wildlife (the official handle of the march is @Peoples_Climate) (Facebook: www.facebook.com/worldwildlifefund)