It's time to stand up for nature.
Stand up to end the flow of plastic into nature.
Stand up to protect our drinking water.
Stand up to conserve our forests, climate, and wildlife.

Nature needs you.
Now is the time to take a stand.
Now is the time to join us at Panda Paddle.

What is Panda Paddle?
Panda Paddle is World Wildlife Fund's one-of-a-kind standup paddle board (SUP) event—helping to conserve and restore our planet. When you take part in Panda Paddle, you'll join together with hundreds of people all around the country who are standing up for our world's waters, wildlife, and wild places.

It's more than just a chance to paddle with your friends, family, and coworkers out on your favorite waterways, it's an opportunity to fundraise in support of WWF's efforts to protect the future of nature.

Don't miss your chance to take a stand. Our oceans need you. Register today.
How much does it cost?
The registration fee for Panda Paddle is $65. There is no fundraising minimum to participate, but every dollar you raise will help protect our planet. Plus you can earn some great items as a thank you for taking a stand for nature. Sign up today!
What can I get for fundraising?
See the list of great fundraising rewards below.
Raise $250 or more and you'll join Panda Paddle's SUPreme Pandas - a group of dedicated nature lovers who not only raise money to protect our planet's most vulnerable resources, but also get extra special rewards including a WWF hat, panda plush and race day perks like a complimentary board rental courtesy of Panda Paddle Sponsor Aqua Adventures and a free lunch voucher!
Want to take your fundraising up a notch? Become one of our top three fundraisers and you'll get one of our extra-special thank you gifts courtesy of Panda Paddle sponsors Infinity and Patagonia.
When do the races start
The 10K course starts at 9:30 AM
The 5K course starts at 11:45 AM
The 1 Mile course will have two heats - 1:30 PM and 2:00 PM .
Don't have a paddle board?
No problem; they'll be available to rent on-site for just $25. But if you fundraise $250 or more through your Panda Paddle fundraising page by event day, you'll receive a complimentary board rental courtesy of our friends at Aqua Adventures.
Don't know how to paddle board?
No worries; you can be a total newbie, and you don't have to be super fit to SUP. Our low-stress 1 mile course is designed just for you. If you've ever wanted to try standup paddle boarding, now's the time!
Experienced paddler?
Try our 5K or 10K course.
Where is it? Is there parking?
Get directions: 1100 W. Mission Bay Dr., San Diego, CA 92109
Free parking is available on site.
Questions?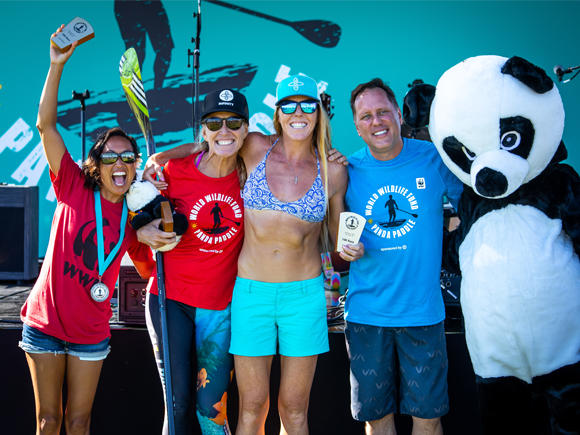 © Nate Dappen / Day's Edge / WWF-US
© Ian Brightman / WWF-US
Why fundraise for WWF?
For more than 60 years, WWF has been one of the leading organizations working to protect our oceans, rivers, climate, forests, freshwater, and wildlife around the world. WWF is also invested in the conservation of our planet's natural resources so that things like our food and energy supply are stable for generations to come.
Over the past year, WWF has been…
Launching campaigns to eliminate plastic waste in nature by 2030 and showing businesses ways to change how they source, use, and dispose of plastic.
Working with Nepal to nearly double its wild tigers, and helping Namibia ensure that not a single black rhino was poached in Northwest Namibia's conservancies.
Collaborating web and social media companies to put a stop to wildlife trafficking online.
Securing new climate commitments from U.S. cities, states, and companies around the world at the Global Climate Action Summit.
And that's just a small sample of the kind of work we do all over the world to fight for healthy oceans, forests, climate, and wildlife. When you fundraise for WWF as part of Panda Paddle, you are taking a stand for the future of people and nature.
© WWF / Vincent Kneefel
© naturepl.com / Andrew Parkinson / WWF
Sign up!
Ready to get on board? Fill out the info below to begin your registration.
Sorry, there was a problem with that email address. Please try again.
There was a problem processing your request. Please see messages below for more information.
Sponsors
Panda Paddle is made possible with support from our generous sponsors.